As materials continue to advance, a variety of coating solutions are being used to enhance reliability and add measurable value to applications around the world.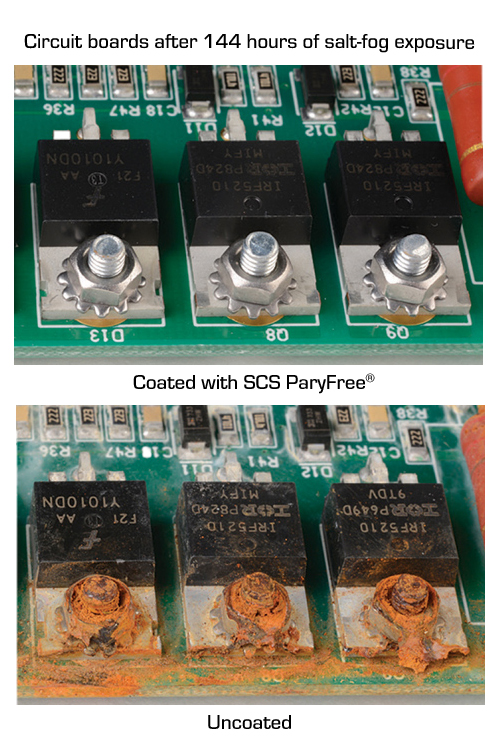 Protective coatings are used in the aerospace/defense, electronics, transportation, and medical device industries to increase the reliability of products by protecting them from their surrounding environments. As technologies evolve and become more complex, often with tight space and weight considerations, it's vital that designers and manufacturers find the most effective solution to shield their products from a wide variety of potential threats.
This 60-minute Webinar offers an opportunity to learn more about conformal coatings including the various types of coatings and coating processes, the properties and benefits that coatings offer products, and applications protected by today's coatings.
Topics include:
Heavy-duty, yet lightweight barrier protection from moisture and chemicals
High dielectric strength to prevent arcing and associated shorts
Excellent thermal stability (up to 450°C and down to cryogenic levels) for extreme environments
Lubricity/low coefficient of friction
Conformal coverage delivering uniform, high-level protection to all areas of a product
Among the types of coatings to be discussed are Parylene conformal coatings, which protect numerous products and components, including circuit boards, sensors, MEMS/semiconductors, LEDs, implantable medical devices, elastomers, and metals, in a wide array of applications. These products benefit from the ruggedization that Parylenes provide.
An audience Q&A follows the technical presentation.
Speakers:
Rakesh Kumar, Ph.D., Vice President of Technology, Specialty Coating Systems
Dr. Rakesh Kumar is the Vice President of Technology for Specialty Coating Systems Inc., where he leads the R&D group and manages Parylene R&D activities worldwide. He has more than 30 years of extensive experience in advanced polymeric materials and their applications in the medical, electronics, and semiconductors areas. Rakesh is currently involved with the application of Parylenes technology in the field of medical devices, electronics, MEMS, sensors, LEDs, antimicrobials, and nanotechnology. He earned his doctoral degree in organic chemistry in India and completed his post-doctorate work in polymer chemistry and interfacial adhesion at the UCL in the U.K. He is co-author of a book and has written several published papers, book chapters, and patents.
Tim Seifert, Aerospace & Defense Market Manager, Specialty Coating Systems
Tim Seifert is the Aerospace & Defense Market Manager for Specialty Coating Systems Inc., where his focus includes global expansion of SCS' market activities and new applications for Parylene conformal coatings. Tim has more than 15 years of experience in the industrial market, including roles in sales, market research, and product marketing, and holds a bachelor of science degree from Purdue University.
Moderator:
Lisa Arrigo, Editor, SAE Media Group
By registering for this Webinar you agree to receive product announcements and special offers from SAE International via e-mail. By submitting your personal information, you agree that SAE Media Group, an SAE International Company, and carefully selected Partner Sponsors of this content may contact you and that you have read and agree to the Privacy Policy (CA Residents refer to Section D of the Privacy Policy). You may opt-out from communications at any time. You may reach us at This email address is being protected from spambots. You need JavaScript enabled to view it..