Page 1 of 2
AReactive Structure Technology (RST) is a new class of smart structure that can react to external excitations (such as blast or ballistic impacts) in a carefully designed way using the energy pre-stored internally or from the external excitations to counteract the hazardous loading or perform other desired tasks. A reactive structure deflects an incoming projectile in order to protect a vehicle body. When a projectile hits the face plate (armor), the embedded sensors feed the impact signal to a control unit, and actuators are triggered to move the faceplate. The movement of the faceplate deflects the projectile and significantly reduces the possibility of penetration in the back plate.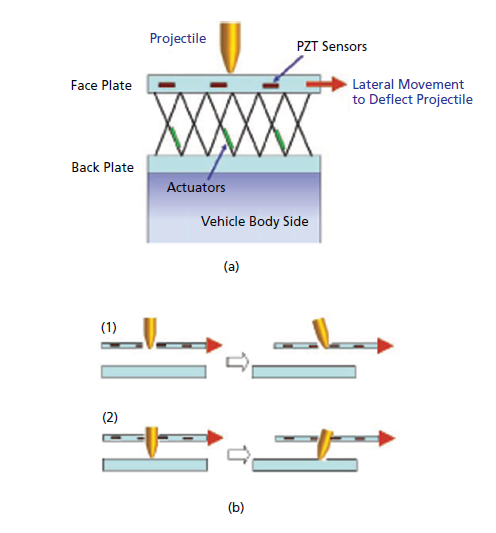 A common form of reactive armor is Explosive Reactive Armor (ERA). ERA tiles are usually used as add-on armor to the portions of an armored fighting vehicle that are most likely to be hit. The use of ERA requires that the vehicle itself is fairly heavily armored. Another drawback to the use of ERA is the inherent danger to anybody near the vehicle.
Non-Explosive Reactive Armor (NERA or NxRA) uses passive material, such as rubber, sandwiched between two metal plates. The loads from NERA inflicted on the vehicle's structure are much smaller than ERA, and therefore can be applied to lighter vehicles. However, NERA is not as effective as ERA for protecting Kinetic Energy threats.
The reactive structure (armor) proposed in this research combines the advantage of both ERA and conventional NERA and eliminates their disadvantages. It consists of two main integrated modules: 1) a face metal plate embedded with impact sensors that is able to react to the impact load and change the configuration using prestored potential energy or the energy from impact load; and 2) an electronic control module capable of differentiating external impact loads by blasts and ballistic objects from normal vibrations during operation.
Two prototypes of the reactive structure have been designed and fabricated for proving the concept. In order to simulate the projectile object, a dropper mechanism and a shooting device have also been developed. The reactive structure module is made of a spring-loaded four-bar linkage. It is held in configuration using a latch. In this position, the two springs are compressed and potential energy is stored in them. When the latch is unlocked, the springs uncoil, and the structure moves under the spring force. Thus, stored potential energy is used to bring out a configuration change. The substrate can be considered as the protected body, and the top plate represents the moving armor. The entry hole made in the top plate is for simulating the penetration by the ballistic object.